Collecting insignia from the Federal Bureau of Investigation since 1999.

This site is not officially sanctioned by the Department of Justice, The Federal Bureau of Investigation, The Louisville Metro Police Department, or any of their entities.

©  Copyright 1999-2006.  All Rights Reserved.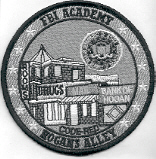 The FBI Academy's Hogan's Alley complex is a realistic, urban, practical problem training area which was initiated in March 1987. The Practical Applications Unit (PAU) manages and schedules all practical training events, administers practical problem exercises primarily to New Agent trainees, and provides safety and survival training to law enforcement officers and FBI Agents.

New Agents are taught at PAU in the areas of surveillance, arrest procedures, and tactical street survival techniques. The new agents are then taken through real-to-life training exercises such as a bank robbery, a day and night time surveillance, a kidnapping, and an assault on a federal officer. New Agents are also exposed to compliant and armed and dangerous arrest scenarios. Paint Gun exercises are also utilized in order to test the New Agents' tactical skills. Hogan's Alley Complex is a unique method of allowing New Agents to apply principles taught in other areas at the FBI Academy including firearms, academics, physical training, and legal training in order to successfully resolve the above described practical exercises at PAU. During exercises students are provided with the tools similar to those in the field such as bureau vehicles, radios, and electronic surveillance equipment.

During the above exercises, a contractor company provides role players to confront trainees and portray various roles in order to create reactions that are more spontaneous and representative of the general population. Supervisory Special Agents within the FBI are assigned as instructors and as evaluators for the New Agents.

The patch shown was made for the Practical Applications Unit of the FBI Academy in the early 2000's.  They were made by Gman Emblem and have their sticker on the back.  Each patch is also numbered 1/100.

Source:  FBI Academy