Collecting insignia from the Federal Bureau of Investigation since 1999.

This site is not officially sanctioned by the Department of Justice, The Federal Bureau of Investigation, The Louisville Metro Police Department, or any of their entities.

©  Copyright 1999-2006.  All Rights Reserved.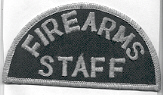 This patch was originally used by Special Agent George W. Zeiss, who was in charge of the Physical and Firearms Training Unit of the FBI Academy from 1954 to 1978.  He retired in 1978 after a 36-year career with the FBI, and this patch was one he wore while at the academy. 

Source: Estate of George W. Zeiss and Press Release from Wackenhut describing his career