Collecting insignia from the Federal Bureau of Investigation since 1999.

This site is not officially sanctioned by the Department of Justice, The Federal Bureau of Investigation, The Louisville Metro Police Department, or any of their entities.

©  Copyright 1999-2006.  All Rights Reserved.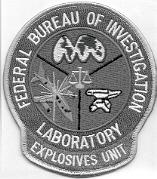 The Explosives Unit is a section within the FBI Laboratory.  It examines evidence associated with bombings. Explosives examinations involve the identification and function of the components used in the construction of incendiary as well as improvised explosive devices. In addition, the Unit performs chemical analyses to determine the type of explosive used in an improvised explosive or incendiary device, which includes bulk substance analysis as well as analysis of the residues left behind when an explosive detonates.

Unit personnel also assist investigators in determining whether debris from a fire of suspicious origin indicates the presence of an accelerant. Providing field support, bombing crime scene investigations, and searches of bomb-making factories and safe houses in which bombs or bomb components may be encountered are other responsibilities of Unit personnel.  The Unit also maintains the Explosives Reference Search System and the Explosives Reference File.

In October 1994, the Explosives Unit joined with the Bomb Data Center to form a central repository for bombing investigations throughout the country and the world.  This joint unit also oversees training at the FBI's Hazardous Devices School in Huntsville, Alabama.

Source:  Federal Bureau of Investigation