Collecting insignia from the Federal Bureau of Investigation since 1999.

This site is not officially sanctioned by the Department of Justice, The Federal Bureau of Investigation, The Louisville Metro Police Department, or any of their entities.

©  Copyright 1999-2006.  All Rights Reserved.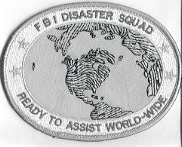 The Disaster Squad was created in 1940.  It is a team of non-agent latent fingerprint specialists and others who use any means available to identify victims of various catastrophes.

Source:  The FBI Encyclopedia