Collecting insignia from the Federal Bureau of Investigation since 1999.

This site is not officially sanctioned by the Department of Justice, The Federal Bureau of Investigation, The Louisville Metro Police Department, or any of their entities.

©  Copyright 1999-2006.  All Rights Reserved.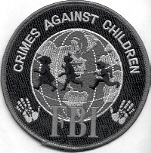 The Crimes Against Children Unit investigates federal violations of laws relating to crimes against children, including kidnappings and related violations, such as child abductions and domestic and international parental kidnappings.  In addition, the FBI also investigates online child pornography/child sexual exploitation violations through the Innocent Images National Initiative (IINI).

Source:  Federal Bureau of Investigation