Collecting insignia from the Federal Bureau of Investigation since 1999.

This site is not officially sanctioned by the Department of Justice, The Federal Bureau of Investigation, The Louisville Metro Police Department, or any of their entities.

©  Copyright 1999-2006.  All Rights Reserved.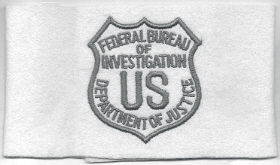 This armband was originally made for use after World War II.  Several hundred of them were made, but they were never used, and were kept in storage for many years.  As time went on and they started being rediscovered, a few made it into the hands of collectors, but many were simply thrown out in the trash.  Some agents cut the seal out of the center of them and put them on bulletin boards in their offices or sewed them onto hats.  Other armbands later followed which were used on crisis scenes to identify FBI Employees.

Source: SAC Mike Griffin (Ret.)